DVN Interview: Samsung's Business Strategies in Automotive Industry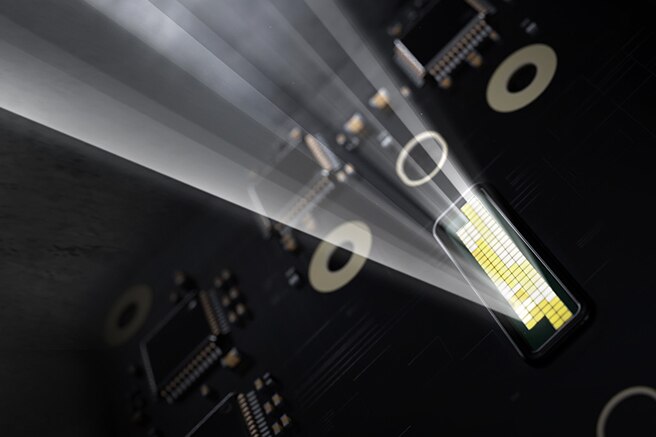 we have played a key role in helping the automotive industry to acquire a stable base of smart driving products like next-generation "infotainment" systems, telematics and advanced driver assistance systems (ADAS).
DVN: Could you briefly introduce Samsung Electronics and the main products it has developed for the automotive industry?
Joongkon Son: Samsung is a world-class leader in semiconductor technology. We view automobiles as an integrated body of high-tech electronic components that can be likened to "running semiconductors," where the integration of convenience, safety and intelligence continues to rapidly progress. As such, we have played a key role in helping the automotive industry to acquire a stable base of smart driving products like next-generation "infotainment" systems, telematics and advanced driver assistance systems (ADAS).
     For example, Samsung is now mass producing LED light sources for automotive lamps. We have been developing innovative automotive light sources for these lamps using advanced semiconductor manufacturing methodology.
     With a rising focus on "ACES" (autonomous, connected, electrical, shared) market trends, the automotive lighting industry has begun developing highly efficient market solutions to complement this shift. To further advance the movement, Samsung has been making meaningful strides in introducing light sources that can be optimized to produce a safer and more comfortable experience on the road for autonomous driving and for electric vehicles.
DVN: Samsung recently released its new PixCell LED. Could you tell us more about PixCell LED? What is its greatest differentiating feature?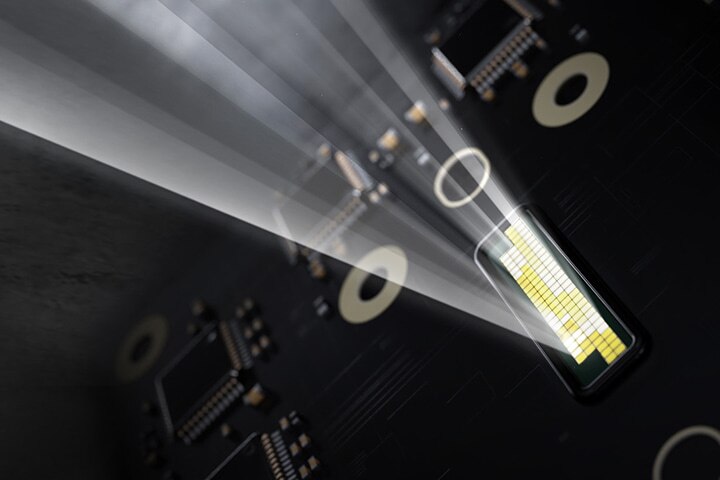 Samsung's PixCell LED is an optimized light source for intelligent headlamps.
Joongkon Son: It's well suited for adaptive driving beam (ADB), an intelligent headlight that detects a car's surroundings and provides the most suitable lighting in real-time, based on weather, traffic conditions and road brightness.
     One of the key performance indicators for an ADB light source is its level of precision, which is where our PixCell LED's technology truly surpasses any of its peers. The PixCell LED contains dozens of individual segments, perfectly aligned and expertly mounted in a matrix structure. Each segment is separated by a silicon wall that minimizes optical interference. As a result, the PixCell LED is able to generate an extraordinary 300:1 contrast ratio, which is triple the precision level of conventional products, enabling incredible visibility on the road. On top of this contrast and clarity, each piece can engage independently in distinguishing which areas of the road need to be illuminated or kept dark, and meticulously controls an ADB's light distribution.
     The development and production of the PixCell LED's unique capabilities is largely due to the strong foundation that has been set for many years through the proliferation of Samsung's industry-leading semiconductor manufacturing expertise. While most traditional GaN LEDs are epitaxially grown on sapphire wafers due to a reduced amount of lattice mismatch between the GaN and sapphire, the PixCell LED adapts GaN on silicon technology with its lowered dislocation densities.
     Samsung is one of the front runners of applying GaN on silicon technology into automotive industry which is a key substrate for Samsung's semiconductor success. In 2009, Samsung began adapting its silicon technology for memory semiconductor solutions to LED products such as flashlights, and has achieved an unmatched level of expertise in LED applications. As a result, our PixCell LED provides the industry's highest contrast ratio while it is based on GaN on silicon as its foundation.
     Clearly, the PixCell LED is a first-of-its-kind intelligent headlamp solution that's able to deliver tremendous quality and reliability for the rapidly evolving mobility market.
DVN: What are some other features that make PixCell LED innovative? Is it more energy-efficient? Does it affect the size of the headlamp?
Joongkon Son : I'm glad you asked that. In addition to its high contrast and premium light quality, the PixCell LED has another unique feature: a super compact, light emitting surface that leads to multiple benefits.
     As mentioned earlier, the PixCell LED is a matrix of multiple individual segments separated by 25 micrometer silicon walls. This distinctive formation makes its light-emitting surface (LES) one-sixteenth the size of comparative LEDs. Correspondingly, its minimized surface reduces the size of other optical components like circuit boards and heat sinks. Moreover, the smaller LES creates light that is straighter and extraordinarily targeted, thereby eliminating the need for a primary lens, and simplifying the optic system. All of this reduces the overall lamp size by 40-50%.
     Smaller lamps enable the design freedom that most automakers need to establish unique brand identities and more future-oriented designs, given the mass popularization of electric vehicles and the astounding evolution of mobility.
     In regard to energy efficiency, smaller components can also contribute a great deal. In the case of electric vehicles, as I said before, minimizing battery consumption and boosting battery performance is a key concern. By lightening the overall weight of an electric vehicle, you can lower the amount of energy required to operate it. In so doing, automobile manufacturers must reduce the weight of as many parts as possible—including headlamps.
DVN: Has PixCell LED been released into the market?
Joongkon Son: Yes, Samsung has been shipping PixCell LEDs to the industry since 2020
DVN: What advantages does Samsung have working with the automotive lighting industry?
Joongkon Son: Samsung has been a leader in the overall LED industry by producing lighting solutions of the highest quality and with the highest light efficacy. Most noteworthy, we have engineered technologies that adjust the invisible spectrum of light and pioneered innovative products in the horticulture and human-centric lighting markets. Now, we are in the process of delivering cutting-edge innovation for the automotive sector.
     Using Samsung's state-of-the-art semiconductor technology, we intend to produce creative solutions that will advance the evolution of mobility around the world. We will continue to gain deeper insight into the market and our customers' needs, while embracing all of the truly expansive possibilities for LED lighting in the future of automobiles.
DVN: Does Samsung plan to develop well-suited lighting solutions tailored for both the premium and general automobile markets?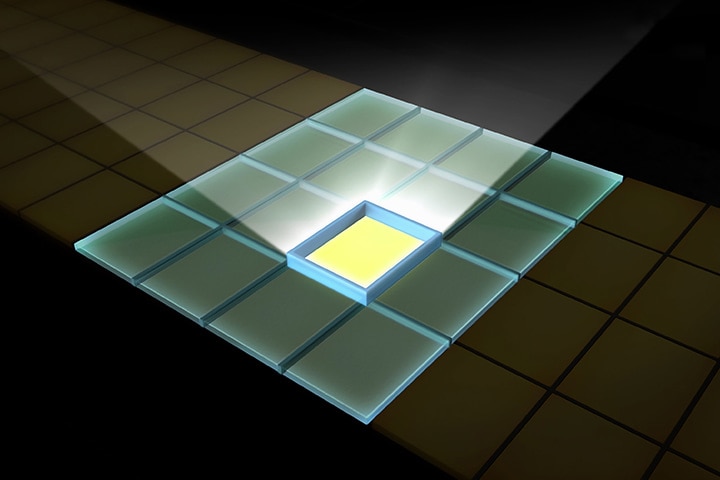 Joongkon Son: Our relationship with automobiles is transforming cars from simply being a means of transportation to serving as a lifestyle 'space', or even an everyday companion. As a result, the role of automotive lighting is becoming increasingly important as this transformation impacts most, if not all, automakers.
     Samsung Electronics aims to contribute new value to the movement. We believe that the industry is moving towards "smarter, slimmer, and more eco-friendly" solutions and are developing products that meet these needs, especially for the autonomous driving and green mobility markets.
     We have created a lineup of high-efficiency headlamp solutions with which to achieve stellar results, as well as in simplifying headlamp optical systems. All in all, our automotive LED lineup allows manufacturers to build slimmer lamps while enabling substantial design freedom.
     Additionally, Samsung has a wide range of cost-competitive LEDs for various car segments. This lineup can spread the adoption rate of LEDs for automobile lamps to all market segments including standard discrete LED lamps. We believe it can increase the accessibility of electric and other green vehicles by lowering their production costs. From premium to entry-level models, we will continue to provide customized solutions that can meet the diverse demands of the automotive market.
DVN: How do you envision the future for Samsung's automotive LED technology?
Joongkon Son: Automotive lighting, like all auto parts, will continue trending towards becoming smarter, smaller, and more efficient to support safer and more comfortable driving. These advancements will also likely go hand in hand with becoming more environmentally sustainable. For our PixCell LED, this could mean that future models will be sophisticated enough to not only engage or disengage as headlamps, but also utilize light pixels to visually display information in better ways.
     Another trend we foresee is LED lighting playing a very significant role in autonomous cars. Once autonomous driving becomes more pervasive, we expect that there will be a larger focus on interior lighting and how it can enhance a driver's experience inside the car. Samsung's advanced spectrum engineering technology is currently designed for horticulture and human-centric lighting, but we believe that it will play a larger part in the field of automotive lighting in the future. I'm really looking forward to seeing how our spectrum engineering technology can help drivers stay more alert or provide them with a sense of relaxation while en route.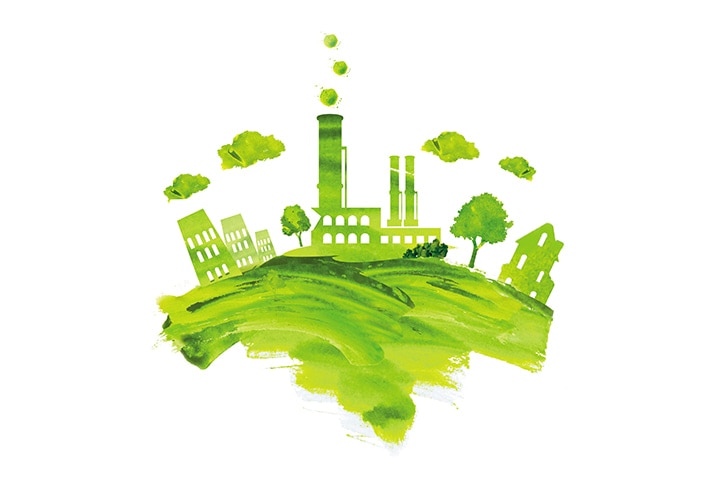 DVN: Environmental protection is becoming a critical issue for most businesses today. What efforts are Samsung making to support a more sustainable future?
Joongkon Son: One of the biggest advantages of LED lighting is that the product itself is highly sustainable. LEDs' absence of mercury, and their long lifespan and low energy consumption, are all factors that make them the most sustainable lighting solution.
     As an LED component manufacturer, Samsung is always looking for ways to protect the environment, while providing the industry with the highest quality solutions. Between 2019 and 2020, we optimized several large-scale manufacturing processes from an environmental perspective, and set targets to drastically reduce energy consumption in major production lines. In doing so, we have been able to halve our CO2 emissions.
      It goes without saying that technology must serve to improve our standard of living in a way that creates a better world, while protecting the environment. Lighting is no exception. The benefits of LED lighting should extend beyond safety and convenience to also reinforce the path towards a sustainable future.
      All of us in the Samsung Electronics LED Business will continue to pursue the limitless possibilities of LEDs in a way that addresses the market's evolving needs and promotes a more environmentally-friendly tomorrow.
DVN www.drivingvisionnews.com, In Depth…, Lighting & ADAS, June 22, 2021