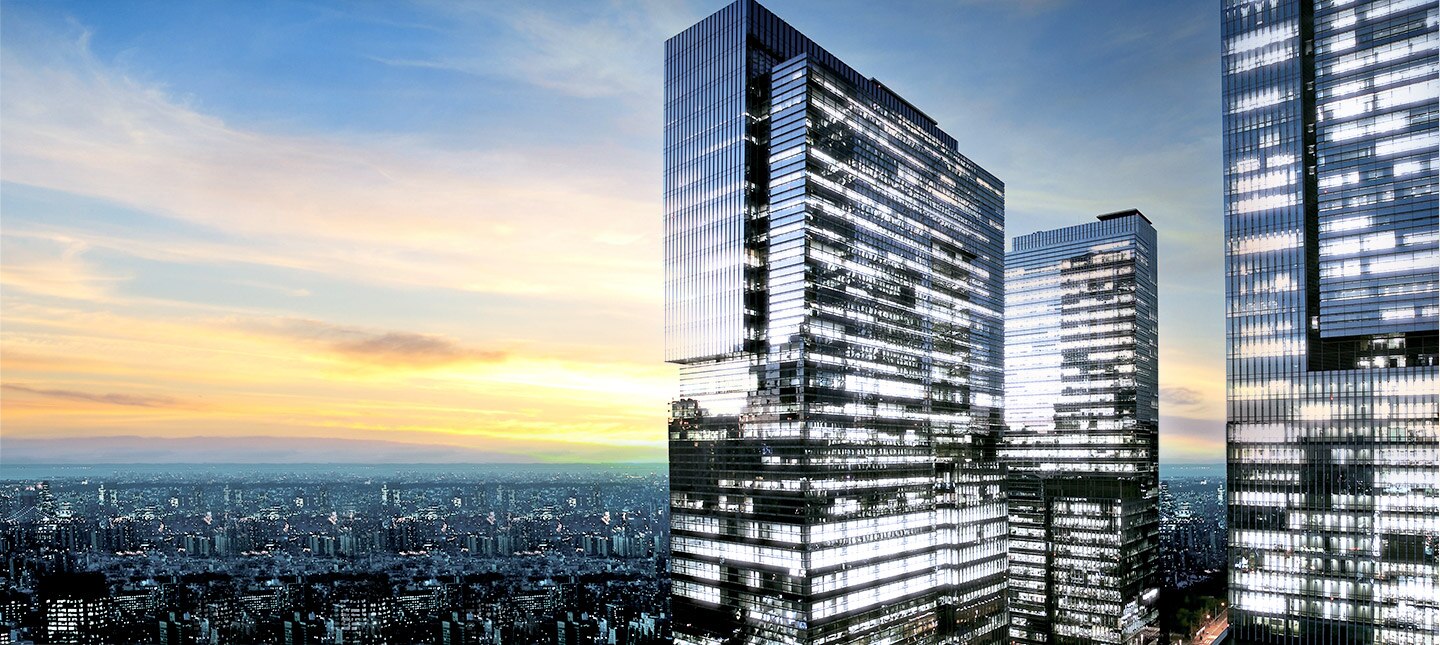 About Us
Story about how Samsung LEDs has
become
the leader in LED industry
 
   As a forefront pioneer of LED technology, Samsung LEDs marks a new era in a global industry. Our company delivers a product line that comprises core components for LED lighting systems including modules for various uses in displays, mobile devices, automotive, and smart lighting solutions.
   Samsung's expertise in semiconductor manufacturing and IT serve as the foundation quintessential to the continued innovation and delivery of state-of-the-art LED devices. Our persistence and consistent pursuit of market enhancing LED innovation are based on key fundamentals well represented by our unique strategy named the "4 building block solution."

   These building blocks are represented as follows:
   The first building block is Samsung LEDs CSP technology, the second building block is our premium line-up, the third building block is Samsung LEDs vision to innovate the future through lighting, and the fourth building block is the trustworthy support afforded by the Samsung brand. These blocks have established the resolute foundation for ceaseless industry differentiation and competitive positioning of Samsung LEDs.
  The first building block of Samsung LEDs 4 building block solution is our CSP technology. In 2014, Samsung LEDs developed and manufactured the world's first Chip Scale Package (CSP), and introduced its groundbreaking 200 lm/W product in 2017. Samsung LEDs CSP significantly reduces LED package size to enable more flexible and compact designs, while slashing LED lighting system manufacturing and operational costs. Our exceptional CSP technology can be customized to fit various applications from mainstream to outdoor. As such, so many customers can enjoy efficient operation combined with design freedom.
   Samsung LEDs was the first manufacturer to start mass production of CSP applied display LEDs and mobile flash. Our CSP modules are being utilized in the world's bestselling television and mobile phones. We have been leading display design trends by enabling slimmer displays with thinner bezels.
   In automotive lighting, Samsung LEDs multi-color CSP realizes additional colors including red and amber by adding RGB to pixel lighting. This technology has a higher potential reliability via blue-chip phosphor conversion.

  The second building block consists of our premium line-up. Samsung LEDs premium line-up promises a brand-new level of value to customers by offering LED packages and modules with industry-leading efficacy. We now deliver the industry's best overall efficacy levels throughout our entire line-up of products from mid-power LED packages to Chip on Board (COB) and LED modules. Our latest flagship product is the LM301B series with world-leading 220lm/W efficacy. 
   Samsung LEDs Chip on Board (COB) with small LES technology ensures enhanced light quality, vivid colors, and currently boasts the top rank in efficiency market wide. Above and beyond, we also offer premium color line-ups with the highest contrast and special spectrum in terms of color variation.
   We also offer a premium automotive lighting solution line-up. With the utilization of ceramic substrate technology, our products deliver highly reliable performance through low thermal resistance, and deliver diverse color options including white, amber, allnGaP red and bi-color. Additionally, exceptionally compact 1mm x 1mm LED chips accomplish a sleek design with uniform light, significantly improving any driving experience through individually addressable multi-LEDs actualizing the Adaptive Driving Beam (ADB) solution.

  Our third building block is the vision we have for future innovation. Samsung LEDs realizes the most holistic user experience through human-centric lighting. Our main aim is to provide added value above and beyond energy efficiency and promoting the improved quality of our customers' lives. Using its accumulated expertise, Samsung LEDs shall continue its imperative role in the transformation of people's ordinary lives in the near future to be richer and more comfortable than ever before. 
   Samsung LEDs Smart Lighting Platform is a highly integrated lighting solution. We have established an intelligent lighting system via a combination of various IoT and LED technologies. With this system, we can empower state-of-the-art space management that optimizes comfort, safety, security, and maintenance. With our extensive know-how of hardware and software, we offer end-to-end smart lighting solutions that accelerate and shape smart homes, smart buildings, and smart cities. 
   Samsung LEDs advanced technology offers not only solutions to general lighting, but has revolutionized the automotive industry. Our automotive lighting delivers a plethora of simple functionalities to assist drivers with improved vision and alerts that are more impactful. Moreover, Samsung raises the driving experience to an entire new level never experienced before. Our scalable chip designs with extraordinary contrast ratios truly realize ADB technology to enhance both driving experience and safety. Multi-colored chip scaled packages characterized by reduced deterioration, combined with blue chip phosphor conversion, are an ideal replacement to OLED. This technology will open up new possibilities to our customers through innovative applications such as Text Readable Heads-Up Displays and an Adaptive Rear Lighting System.
   The fourth building block is the dependability of the Samsung brand. Samsung's brand power supports Samsung LEDs through its strong brand presence throughout the world. Samsung LEDs has become synonymous with trust to our business partners and consumers and continues its status as a beloved brand.

   We have begun ingredient branding program for our products to further promote Samsung's brand leverage in LED fixtures. It assists LED lighting prospective customers seeking high quality LED products with their selections via the Samsung's logo representing high quality LED components applied in Samsung LEDs fixtures. 
   Samsung LEDs operates a world-class certification test center in collaboration with major international certification agencies to allow the quick supply and launch of ever safer products. Additionally, Samsung LEDs customers benefit from our exclusive Certification Support Program that speeds up the certification process and makes it more affordable.
   Samsung LEDs owns various patent rights, involving EPI, chip, packaging, phosphor, modules and drivers for blanket coverage in crucial LED technological areas. We have positioned ourselves as a global leader in successful patent applications and registrations. We continue to carry out meaningful research and development to expand our intellectual property rights pool and will passionately protect our creations and its value to customers.
  Samsung LEDs endeavors to take the leading role in both LED applications and components with a smart innovative approach to lighting. We will continue to invest in technology development and design to reach beyond the boundaries of LEDs to create innovation for business and the society.
 
1995
Samsung Electro-Mechanics launched LED business
2006
Developed 1Watt High Power LED PKG for Lighting
2009
Samsung LED Co.Ltd established
Established Tianjin Samsung LED Co.Ltd (China Production Plant)
2010
Established Samsung LED sales branch in US
Launched LED Retrofit business in Korea
2011
Established Samsung LED sales branch in Europe
2012
Merged with Samsung Electronics
2013
Launched COB for lighting
2015
Launched Mid-Power CSP for lighting
Expanded COB products line-up (6.4 ~40W)
2016
Expanded CSP products line-up for lighting
2017
CSP achieved mainstream performance (200lm/w)
1995
Samsung Electro-Mechanics launched LED business
2009
Samsung LED Co.Ltd established
Established Tianjin Samsung LED Co.Ltd (China Production Plant)
Launched Automotive LED bussiness in Korea
2010
Established Samsung LED sales branch in US
2011
Produced Full LED headlamp equipped exclusively with Samsung LEDs
Established Samsung LED sales branch in Europe
2012
Merged with Samsung Electronics
Started supplying ceramic LEDs to European customers
2015
Equipped headlamp for Japanese cars
Started supplying PLCC LEDs to European customers
2016
Started Supplying PCB assembly for exterior lamp to overseas customers
1995
Samsung Electro-Mechanics launched LED business
1999
Started mass production of Blue LED
2004
LED Packaging Plant in Tianjin, China began operation
Developed White Side-view LED PKG for ITC
2006
Started mass production of LED Back Light unit for LCD TV
Commercialized BLU direct type for LCD TVs with Red, Green, Blue LED PKGs
Developed Edge type LED Module for TV
2007
Achieved World's first adoption of White LED products in TV
2009
Samsung LED Co.Ltd established
Established Tianjin Samsung LED Co.Ltd (China Production Plant)
2010
Achieved adoption of LEDs in 3D TV and Ultra-slim TV
2012
Merged with Samsung Electronics
2013
Started mass production of Industry leading high efficacy Flip Chip products – Direct LED modules
2014
Developed Industry leading Optic integrated LED – 3432 HCRI and Super Slim Flash LED
Started mass production of CSP applied TV
2015
Developed Side-view LED Module for 3 bezel-less TV
2016
Introduced Industry Wide Color Gamut LED for TV
2017
Developed Bending PCB LED Module for 4 bezel-less TV
Contact Us
We will help you find the right solutions for your business
Sales Network
Partner site for B2B collaboration