LED Professional Interview: LED Business in Focus
Let's start right away and ask how the LED market is structured today, where the growth markets are and which areas are tending to stagnate or even decline?
LED professional:
Let's start right away and ask how the LED market is structured today, where the growth markets are and which areas are tending to stagnate or even decline?
SAMSUNG'S LED:
As all of us have witnessed, the overall LED market has been growing slowly as it approaches market maturity. However, I am still seeing major opportunities out there for LEDs. Despite an overall static pace of growth in general lighting, technology advancement will continue to maintain LED at a level up, as the industry-standard in lighting performance. Take a look at light efficacy, the key parameter of LED lighting performance. It keeps improving, and we're one of the most committed improvers. In fact, Samsung's LM301B has had the top light efficacy in the mid-power LED class since 2017. Besides the efficacy, an over 80 color rendering index is considered basic performance. LED component manufacturers are working hard in order to satisfy those higher customer performance requirements today in a wide variety of markets and succeeding. New markets such as horticultural and human-centric lighting are taking the lead in moving us back on a firm path towards stable growth. The demand for differentiated lighting solutions including premium and specialized lighting will continue to grow for the foreseeable future.
Looking at automotive lighting, the market is being fueled by the industry's embrace of the ACES (Autonomous, Connected, Electric, Shared) trends. As autonomous driving and electric vehicles get more attention, the importance of exterior lights is rapidly growing, since these lights are a key factor for enabling better and safer driving conditions.
The display market is gaining greater momentum and I don't have to tell you how large a market this is. Unquestionably, TV still remains the leading home entertainment device and its popularity is growing. Pure and simple, the increasing affordability of TVs is getting stay-at-home consumers to purchase higher quality, larger-sized televisions throughout the industrial world.
In addition, the signage display market is beginning to shift towards solid growth, propelled by the availability of fine-pitch technology and greater use in areas of expanded application such as home theaters, control rooms and video conference displays.
Also, transformed lifestyles are increasing the number of home offices and home classrooms, which has stimulated demand for more mobile devices including smartphones, tablet PCs and laptops. In addition, the massive roll-out of 5G technologies, which continues globally, is also accelerating demand for mobile devices.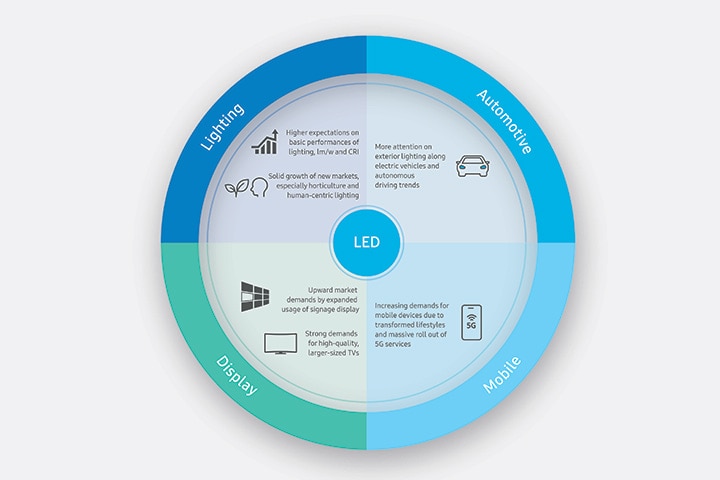 LED professional:
How has the LED business changed from your point of view and what are your expectations for the industry, the design and the application or user?
SAMSUNG'S LED:
As you know, it's been more than a decade since LED became the lighting standard. As the technology evolves, new applications are being developed and refined such as the expanding role of LED lighting in stimulating the growth of plants. But, while the history of LED lighting for plant growth has been rather short, and the growing season is not that long, a large number of farms are now using specialized LEDs for horticulture instead of ordinary LED lighting. Samsung introduced its first horticultural LED packages and modules in 2018 and since then, our sales in the horticulture market have grown tremendously, over 10-fold in the past year alone.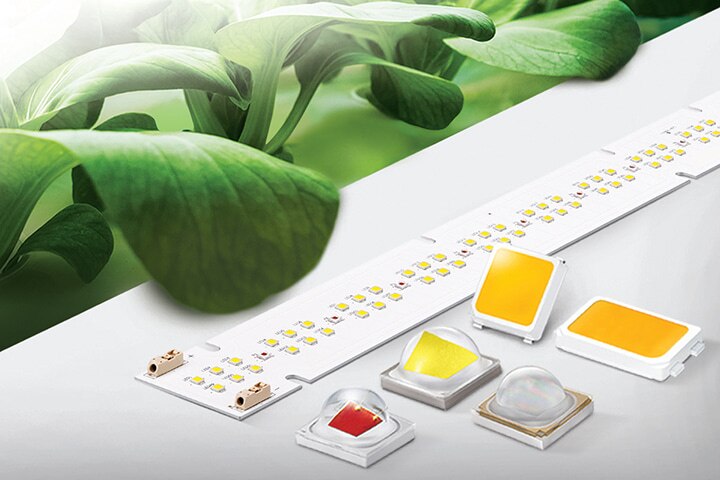 Moreover, the B2C horticulture market has recently begun to enjoy the many advantages of specialized LED lighting, too. Successful use cases abound everywhere you look. From these experiences, you can get a good idea of how commercial horticulture is leading the way in extolling the virtues of LED lighting to a market even larger than originally anticipated. In fact, we're expecting this growth to extend into the next decade.
Unsurprisingly, in today's away-from-the-office world, the display business as well as the mobile device market will continue to grow. For these markets, the industry will continue to enable high competitiveness through innovative technologies, quality components, and fast time-to-market. New markets hold much potential and must also be given a lot of attention as they continue to surprise us with their steady growth.
Overall, I believe you will see more such market expansion creating opportunities for industry players in all facets of the business. In fact, there's likely to be a long maturity curve in the LED marketplace.
LED professional:
What are the specific requirements that will be most prevalent in the general lighting and automotive application markets?
SAMSUNG'S LED:
I'm glad you asked that as in the future LEDs should satisfy several areas of performance, not only lm/W. With this in mind, we recently introduced human-centric LED package lineups, such as Energizing Lighting Solutions and Relaxing Lighting Solutions. The Energizing solutions apply a spectrum of light that features a maximized cyan-wavelength intensity, which helps people to be more alert and better focused. On the other hand, our Relaxing solutions feature a spectrum with minimized cyan-wavelength intensity, which promotes greater melatonin production to relax the body more after a long day.
Of course, there are other areas of growth where light efficacy plays the dominant role in enhancing product performance. For example, light efficacy is the most important factor in the automotive sector, especially in electric vehicles where driving efficiency is critical. Electric vehicles use a battery to store the energy needed to power up a car. Yet, there are relatively few charging stations, and charging takes considerably more time than fueling gasoline-engine cars. So, the driving range for a single charge becomes the most crucial performance aspect of an electric vehicle. Now, you might try to argue that LED lighting in cars doesn't consume much electrical power. But let's reverse our thinking here. If we save energy from even a small portion of the overall amount of power consumed, won't it still make a significant difference over long periods of driving? And, isn't that even more significant when fleets of cars or traffic in an entire urban area is considered?
LED professional:
Sustainability and Eco-design are modern buzzwords in the lighting world. How do you see this and what answers does Samsung offer for the challenges in these topics?
SAMSUNG'S LED:
One of the biggest advantages of LED lighting is its eco-friendliness. The absence of mercury, a long lifetime, and low energy consumption all make LED lighting what we believe is the most important sustainable lighting solution. As a LED components manufacturer, we always are seeking ways in which we can contribute to maintaining a healthy environment, while providing high-quality LED component solutions at the same time.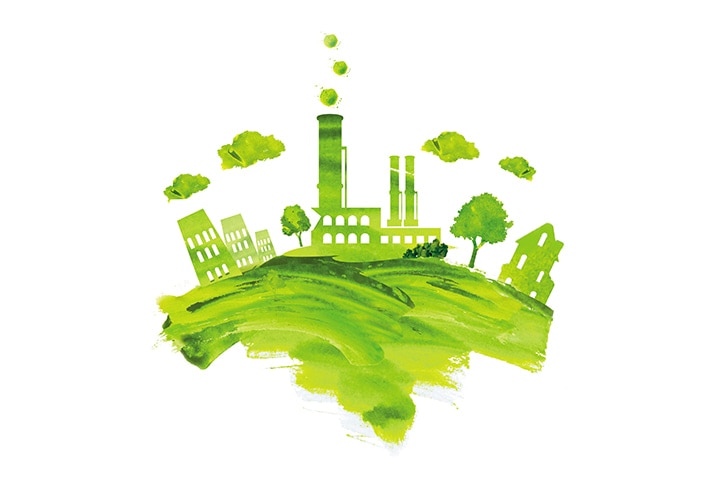 In terms of our main production lines, we set a goal to sharply reduce energy consumption and carbon emission. By optimizing several key manufacturing processes, we reduced our CO2 emissions by more than double from 2019 to 2020.
Consider another area of eco-efficiency that's often shrugged off, and by that I mean product packaging. While LED packages and modules do not require much in the way of external packaging, we realize that even such a seemingly inconsequential part of the big picture can have a distinct impact on the environment. So Samsung has redesigned its LED module packaging and now uses at least 20% less plastics in our packaging than we did last year.
LED professional:
Which technological innovations will play a significant role in the individual growth areas over the next few years, and what innovations can readers expect from Samsung in the future?
SAMSUNG'S LED: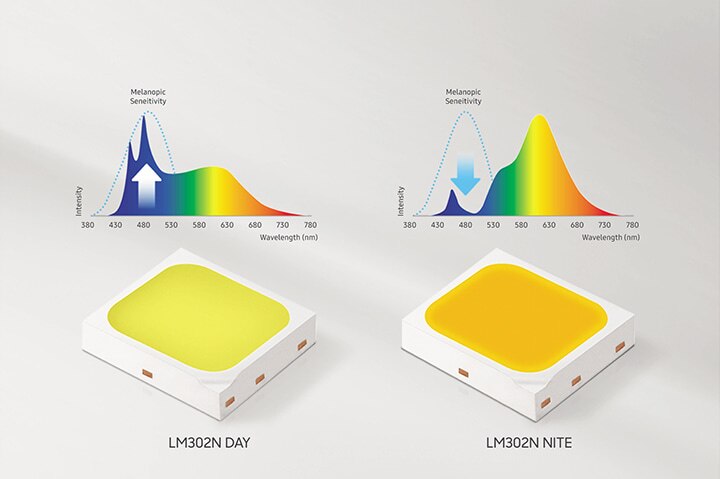 We believe one of the reasons that LED lighting technologies have been so innovative is that we have taken a very careful look at adjusting spectrum. In Samsung's view, spectrum is the fundamental element of light, so designing spectrum well determines the efficiency of the lighting that it creates. In this regard, as I previously mentioned, we've maximized the effects of horticulture and human-centric lighting by skillfully fine-tuning spectrum. And, we think that spectrum technology will be the key focus for the next generation of innovation in lighting, too.
LED professional:
What's the overall strategy and vision of Samsung's LED business?
SAMSUNG'S LED:
Let me answer this by first asking you a question: What does the inseparability of light mean to people?
Light affects many aspects of what we do, from the visual effects of object recognition to its non-visual impact on biorhythms including mood enhancement, sleep optimization, and health improvement. So, light is a major focus for innovation in a wide range of areas, from residential, offices and other diverse living spaces to automotive, agriculture and health care applications. It is no exaggeration to say that light is a key contributor to enabling people to have a healthy efficient day, since it is one of the most important aspects of a safe and productive living environment. Moreover, LEDs are an essential contributor to a sustainable future. Few would argue that technology in general needs to continue to evolve for a higher standard of living, increased environmental protection and a safer world. The same is true of lighting. Progress in the advancement of LED lighting goes beyond human convenience to the betterment of our global environment, and even in achieving a greater sense of contentment in society overall.
Lighting, which had long been mired in the realm of lighted space, is now transforming to help us to embrace new values at the same time. Samsung Electronics will continue to pay attention to LED's near-infinite possibilities to better understand the changing needs and problems of people over time, and enable a more environmentally friendly tomorrow.
LED Professional Review, May/June 2021 Issue, p22