Samsung's Human-Centric LEDs with Engineered Spectra to Boost Energy and Improve Concentration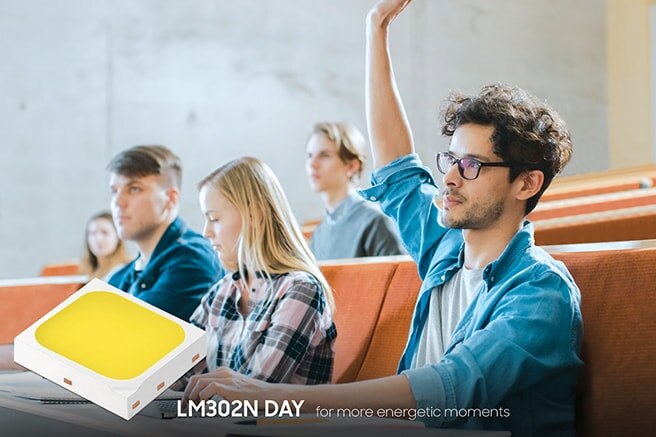 With Samsung's advanced spectrum engineering, LM302N DAY suppresses melatonin production to make users feel vigorous during the day.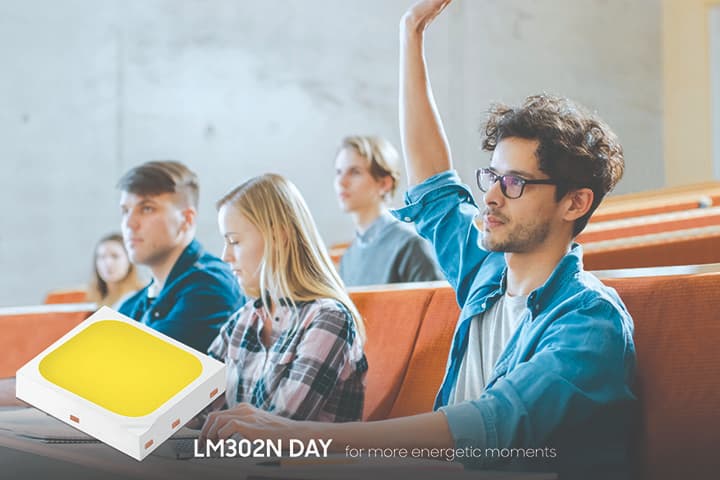 Study Shows the Impacts of Lighting in Our Daily Life
Many researches have indicated that lighting plays a critical role for human wellbeing and can significantly affect our productivity. The Lighting Research Center at Rensselaer Polytechnic Institute published a study in 2018*, demonstrating that circadian-effective lighting installed in office buildings can help workers to reduce sleepiness and increase alertness and energy.
"Circadian-effective" lighting describes light source delivering effective photic stimulus that suppress melatonin, which often refers to light with enriched blue-cyan light wavelength (450-500nm). Natural sunlight, for example, provides strong blue light and helps to suppress melatonin production, making people feel more energetic and vital.

LED Technology Achieves Optimal Spectra to Support Human Centric Lighting
According to the report of U.S. Environmental Protection Agency**, Americans spend more than 90% of their time indoors and are exposed to artificial lighting, which sometimes hardly provides the same amount of circadian stimulus compared to natural sunlight. As a result, people spending time working or studying indoor usually find themselves difficult to concentrate or lethargic, leading to poor performance on their tasks.
As lighting technologies advanced, LED producers are now capable of manufacturing LEDs with designed light spectra for various applications in different scenarios, enabling human centric lighting or circadian lighting to enhance health and wellbeing for people. For example, during daytime, LEDs with optimized amounts of blue-cyan wavelength range are applied to improve users' alertness and help them to better concentrate on their tasks.

Scientific Proof of How Samsung's Human Centric LEDs Enhances Concentration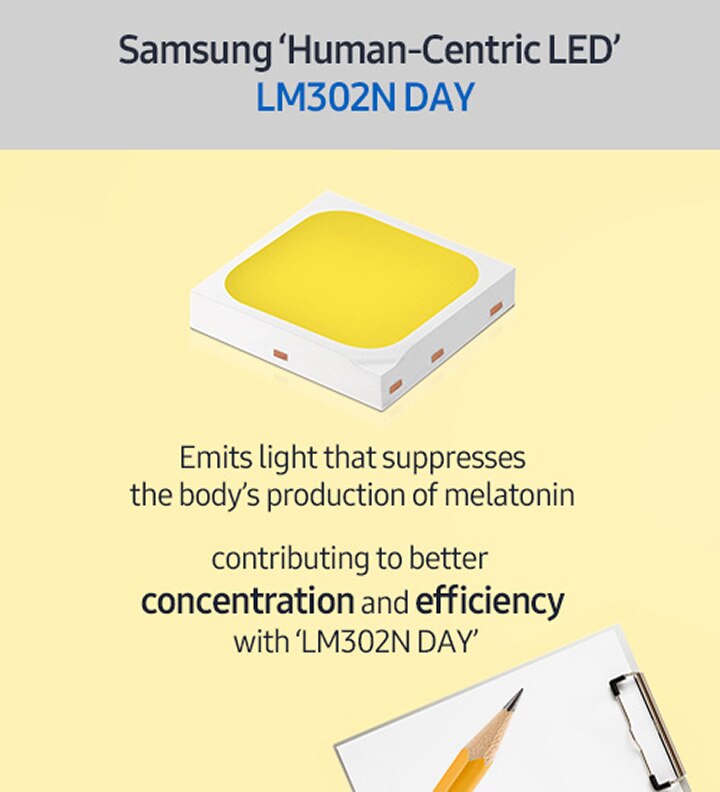 Samsung recently launched its first "human-centric" LED packages deliver lights with engineered spectra that helps people adjust melatonin level improving their concentration level or promoting better sleep.
The LM302N DAY delivers light spectra with intensified wavelength of 480nm, emitting stronger blue-cyan light like natural sun light that diminishes melatonin secretion. With Samsung's advanced spectrum engineering, LM302N DAY suppresses melatonin production to make users feel vigorous during the day.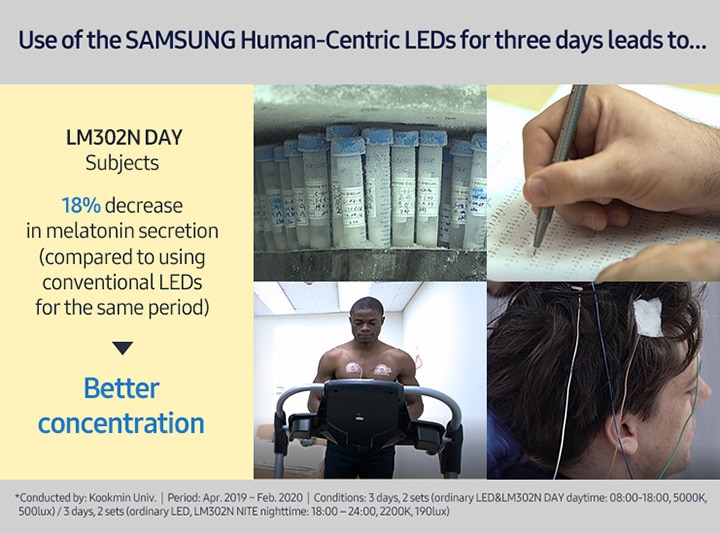 According to the clinical test conducted by Kookmin University in South Korea, subjects exposed to LM302N DAY during the daytime exhibited 18% less salivary melatonin compared to the reference group under conventional LEDs for the same period. The research also found that, with LM302N DAY, people's performance on D2 Test of Attention and Sudoku test was improved by 3% and 10% on average, respectively, which might indicate that the lighting helps people to better concentrate on their tasks.
In addition to the blue-cyan light level that related to melatonin production of human body, color temperature also affects our feelings and how we perceive objects. Sharp white light usually creates alertness while soft warm light leads to a calmer atmosphere.
In order to fit in a wider range of application scenarios, Samsung's LM302N DAY are available in different color temperature covering 3000K, 3500K, 4000K, 5000K, 5700K and 6500K. The cool white 6500K product emits cool white light to efficiently boost energy and increase attention, which can be implemented in offices or classrooms for improving productivity. In contrast, the 3000K product with warm white light provides softer and calmer indoor environments for places where people require a more relaxing ambience but still need to carry out tasks, such as elderly or baby care centers and art studios.

Samsung's Full Product Portfolio Creates Balanced Indoor Lighting for Modern Lifestyle
Samsung's LM302N DAY offers various color temperatures for lighting designers to build tailored luminaires according to the needs for different application fields. Featured with standardized package size of 3.0x3.0 mm, the LEDs can be installed in customized fixture design. Moreover, the EMC (Epoxy Molding Compound) packaging make it more resistance to humidity and heat, enabling durable and reliable luminaires.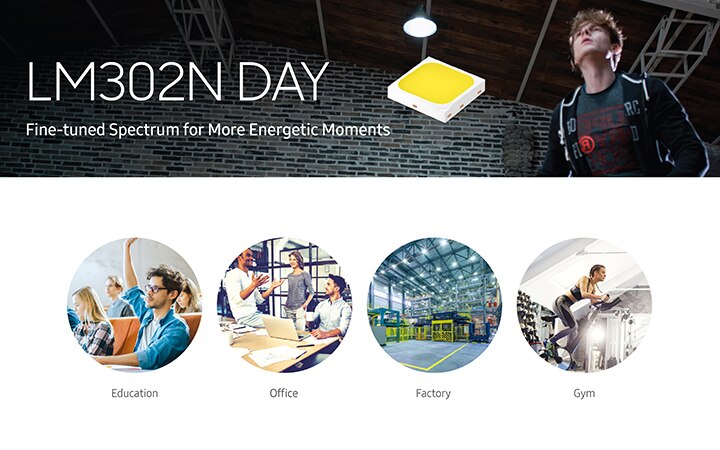 As an advanced digital component solution provider, Samsung Electronics with its first human centric LED packages helps to improve well-being and health for people who lead modern indoor lifestyles. With Samsung's LM302N DAY, people can excel their work with lifted alertness and concentration.
For more information, visit https://led.samsung.com/lighting/applications/human-centric-lighting/
Yining Chen | LEDinside | TrendForce
LEDinside, "Samsung's Human-Centric LEDs with Engineered Spectra to Boost Energy and Improve Concentration"