Samsung's LM302N DAY Provides Human-Centric Lighting Solutions Designed to Improve Concentration and Alertness Levels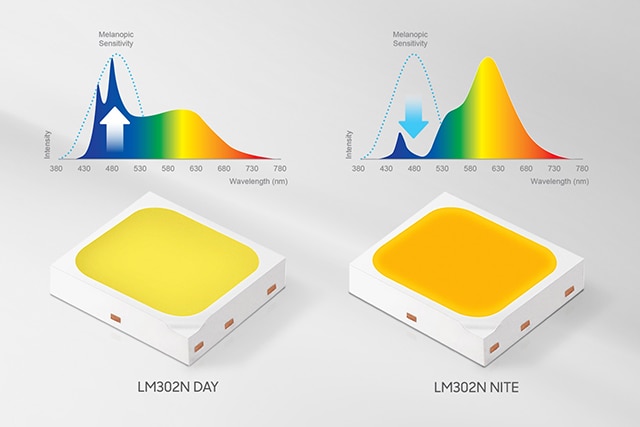 LM302N DAY designed to improve alertness and concentration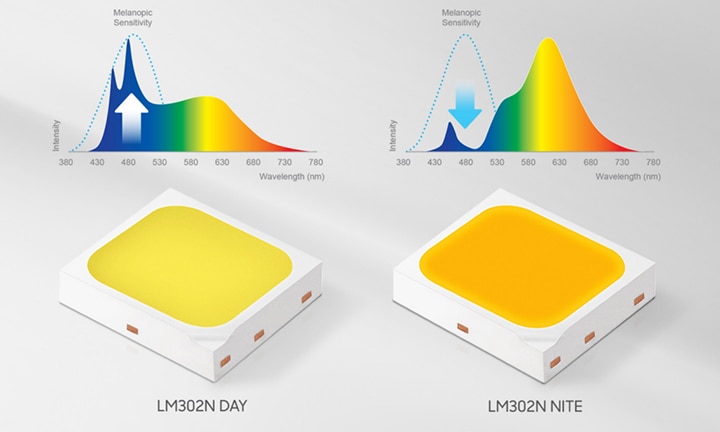 Samsung sought to develop and produce something that had the opposite effect of incandescent lighting, and in the process, provide users with the ability to either limit or enhance melatonin production and at the same time, increase human productivity by helping to balance human circadian rhythms. Melatonin is the hormone which regulates the sleep/wake cycles in the human body and is extremely responsive to a cyan wavelength range of light.
Circadian rhythm is the natural process that regulates the sleep-wake cycles in humans, in 24-hour periods.
There are many things that can affect this rhythm, both in positive and negative ways. One of those is lighting. Utilizing the correct lighting can have a significant impact on both productivity and concentration, which is especially important for office workers (and in the current situation, those who are suddenly working from home).
Studies have shown that there is a connection between different types of light and circadian rhythms, which can affect not only productivity, but sleeping cycles, stimulation, and even depression.
A recent study by the American Society of Interior Design (ASID) found that 68 percent of American employees complain about the lighting in their offices at some point during their tenure. Employees cited many varying circumstances, but the overwhelming number of complaints were eye strain, headaches, lack of motivation and decreased productivity.

Improve Alertness and Concentration with Samsung's New LM302N DAY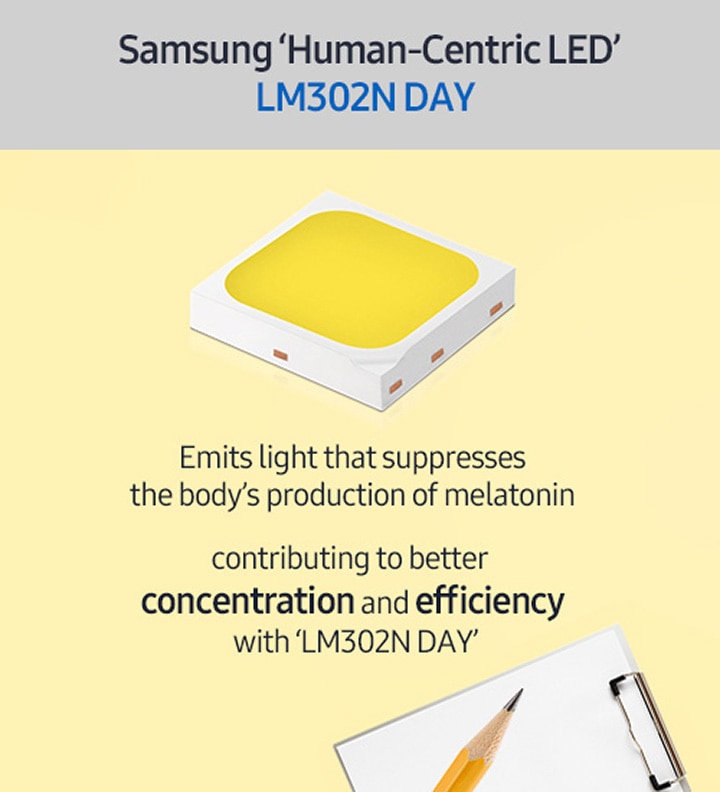 Samsung realized that "human-centric lighting" has become a buzzword for today's lighting as most people spend their workday under artificial lighting. As a result, they developed a new LED for human-centric lighting, LM302N DAY which is designed for daytime operations.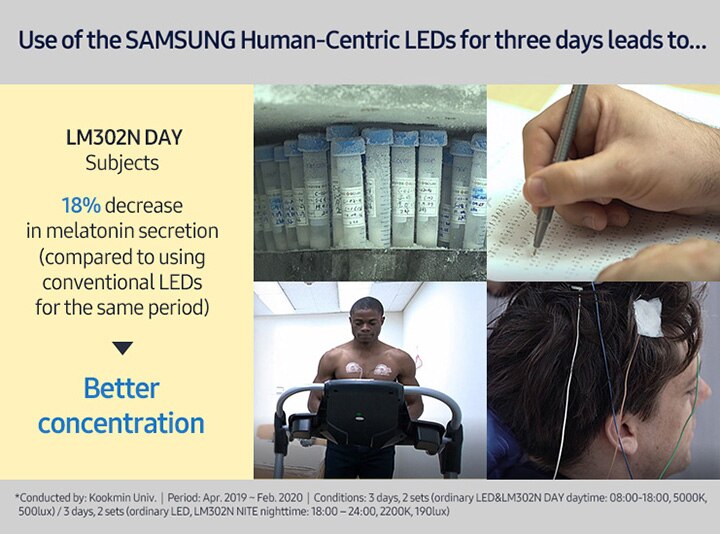 In a clinical study conducted by researchers at Kookmin University in Korea using Samsung's LM302N Day, it was found that the new LED lighting suppressed the subjects' melatonin level by 18 percent below that under conventional LED lighting.
Using dual blue emitters, the Samsung LM302N DAY facilitates a broader spread of blue energy, allowing more impact on the nonvisual system without an overly high blue peak.
Offered in color temperature options ranging from 3000K to 6500K, the LM302N DAY creates a lighting ambient from very cool white to cozy warm white that helps make workers more alert and results in improved concentration levels.
While many people may prefer warm lighting, numerous studies have proven that a warmer light actually facilitates melatonin production in the body, bringing on a less focused level of concentration and attentiveness.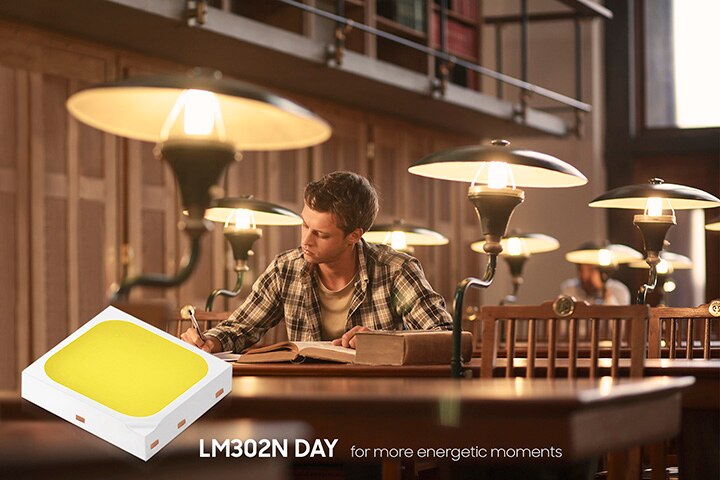 The LM302N DAY 3000K solution provides a warm white light while still continuing to retain its melatonin suppression functionality. The 3000K model is ideal for use in libraries, where people want to concentrate within a calmer environment. The cool white models from 4000K to 6500K are best for use in office, workplace and school settings, where a higher level of alertness is required to keep people focused on what they are doing.
The standard 3mm x 3mm packaging allows the LM302N DAY to fit into a wide range of fixtures. In addition, the Epoxy Molding Compound (EMC) packaging makes the LM302N DAY highly resistant to heat and humidity.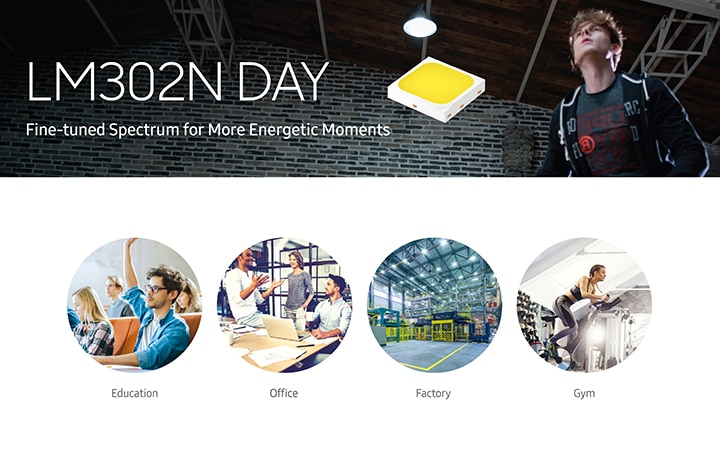 For more information, or to find the dealer nearest you, visit https://led.samsung.com/lighting/applications/human-centric-lighting/.
LEDs Magazine, "Samsung's LM302N DAY Provides Human-Centric Lighting Solutions Designed to Improve Concentration and Alertness Levels"