The Importance of Industry Standards and Testing in Non-Ceramic LED Outdoor Lighting
New Solution Release
2023-05-25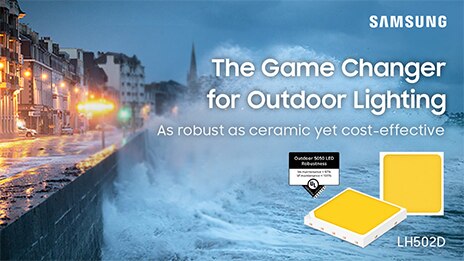 Samsung has implemented stringent test criteria to prove the robust nature of its new 5050 LED package that has been verified by UL Solutions. These tests were designed to analyze how well an LED can maintain its performance under harsh environmental conditions.
As technology evolves in LED industry, various platforms of LEDs have been developed. However, some of the traditional LEDs are retained for lighting, for example, a flip-chip-based 3535 ceramic-based high-power LEDs for outdoor lighting. It is because the performance and reliability is proven through accumulated business cases under harsh environmental conditions over long periods. 
Yet, there has always been strong demands for low cost light sources,  especially for outdoor lighting. Such demands push lighting manufactures to adopt other platforms such as an epi-up 5050 high-power LEDs as a substitutes of flip-chip 3535 ceramic-base LEDs for outdoor lighting. At the same time, this outdoor  lighting application also requires strict reliability criteria to meet without compromising on performance. The reliability of low cost LEDs is often questioned in the market, especially in outdoor applications.

To ease such concerns, Samsung has implemented stringent test criteria to prove the robust nature of its new 5050 LED package. These tests were established to analyze how  well an LED package can maintain its performance by withstanding harsh conditions involving salty air, fog, high humidity, extreme temperatures and thermal shock – conditions that are often found in the field. Moreover, the Samsung's comprehensive test methods for outdoor LED robustness tests, the Outdoor 5050 LED Robustness, has been verified by UL Solutions, a leading independent safety science company.
Samsung has tested its new EMC high-power epi-up LED, LH502D in accordance with the Outdoor 5050 Robustness Test. The LH502D were exposed to salt mist for 6 days, hydrogen sulfide test for 21 days and 42 days under Wet High Temperature Operating Lifecycle Test (WHTOL). In addition to this, thermal shock tests were performed for 500 cycles. It was found that the LH502D preserved luminance over 97% and forward voltage for less than 101% after completion of tests mentioned above. These results are on par with the conventional flip-chip 3535 ceramic high-power LED. All the test results are now backed by UL Solutions as shown by the UL Verified mark.


The key feature in bolstering robustness of the EMC-based LH502D involves addition of a ceramic coating to the inner surfaces of the lead frame. The highly protective component helps the package to protect the LED chip in harsh environments while keeping its shape in EMC lead frame. By using Samsung's LH502D in outdoor lighting, lighting fixtures can expect a much welcome cost saving on a fixture level and maintaining reliability as high as 3535 ceramic high power LEDs at the same time. Such high robustness makes it perfectly suitable for lighting manufacturers who are seeking for highly reliable and cost-effective light sources for outdoor lighting.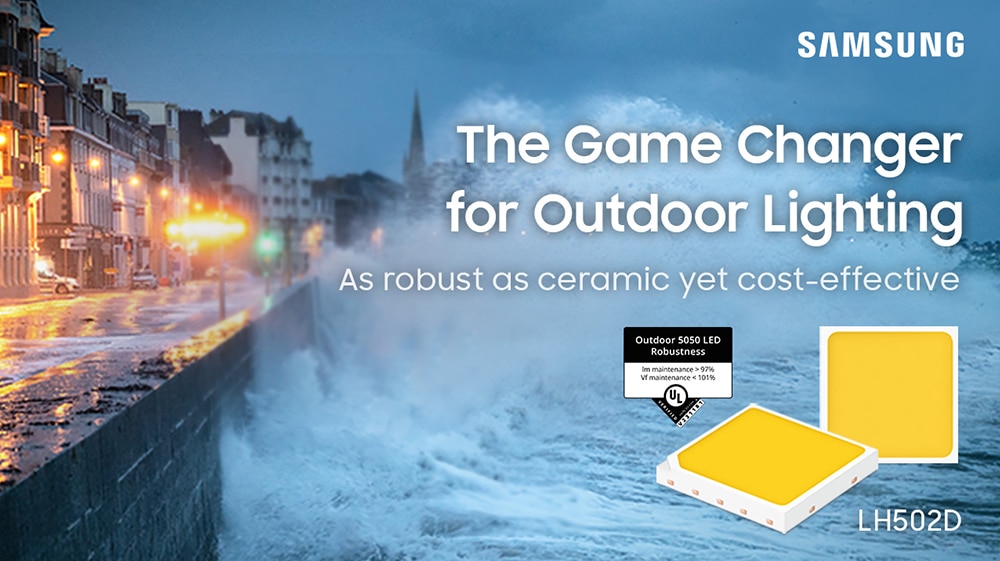 The LH502D is now in mass production and offered with a full-range of color temperatures from 2200K thru 6500K for design flexibility.
Specification
LH502D
Max Current (mA)
1000
Operating

Voltage (V)

6.03
Luminous Flux

(Typ. lm)

720
Luminous Efficacy

(lm/W)

185
ESD
Class 3B

(Up to 8 kV)
* CRI 70+, 4000K, 25℃, 640 mA