The Game Changer for Outdoor Lighting
New Solution Release
2022-09-23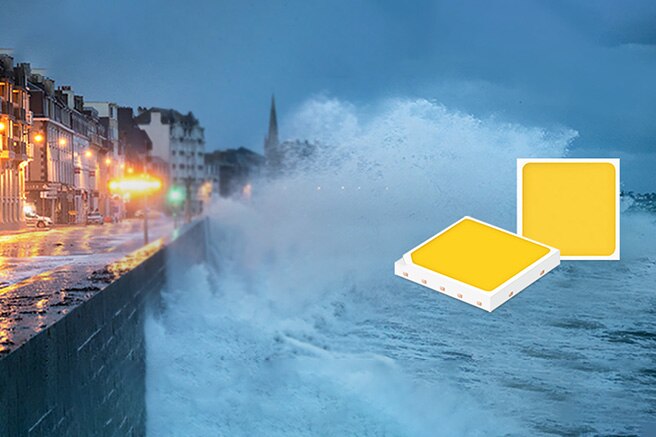 Samsung's New LH502D with enhanced reliability and cost-efficiency.
A new LED solution for outdoor lighting everybody has been waiting for.
The 5050 LED is replacing the 3535 LED, which has long been the leader in the outdoor lighting market. The existing ceramic-based 3535 has excellent reliability but is expensive. At present, the 5050 LED, which has achieved remarkable performance improvements in  ecent years, is targeting the market with price advantages. However, the 5050 LED must continue to enhance its reliability to become the mainstream of the market. The American National Standards Institute (ANSI), an organization that oversees standards and conformity  ssessment activities in the U.S., publishes a comprehensive list of factors for consideration when designing outdoor lighting. These guidelines are updated to secure road safety and are expected to become more important due to climate changes. Therefore, the outdoor lighting industry has been looking for a more reliable and affordable lighting solution that can protect our safety and properties.
Samsung's High Power LH502D is the answer to all these problems and is the ideal outdoor light source for overcoming the limitations  f current outdoor lighting products.
The Innovation behind High Power LH502D
Outdoor lighting is directly related to safety and can be very costly when replacements occur. That is reason why it is imperative to maintain stable performance for an extended period. Samsung's LH502D shows unmatched performance in multiple core reliability tests.  This new solution increases the product life from 5 years to 16 years (based on 8 hours of operation per day) according to provided data.
Samsung's exceptional ceramic coating technology prevents sulfuric gas from contacting the Ag (Silver) inside a package to prevent sulfide formation. This new outdoor lighting solution with high sulfur resistance successfully lowers lumen degradation to just 3% or less,  esulting in a longer lifetime. The ceramic coating also provides stronger resistance to the high humidity and salt fog to prevent corrosion and failure of the lighting. In addition, Samsung has applied Zener Diode to avoid Electrostatic Discharge (ESD), which  s another critical failure factor for high-power LEDs, realizing stable performance in harsh environments.
Above all, another great benefit LH502D promises with its outstanding performance is the economic advantage. Our new solution provides excellent lm/w that is far superior to the existing 3535. Its high efficacy can reduce the number of packages when designing modules and lower the Surface Mount Technology (SMT) cost, resulting in very high price competitiveness.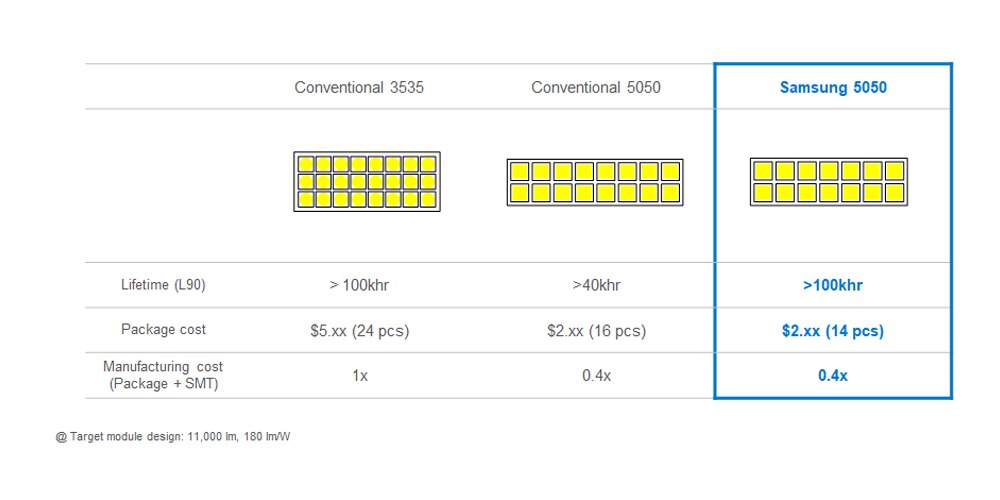 Scientifically Proven High Reliability
To prove the powerful performance of LH502D, Samsung conducted reliability tests under various circumstances. Rigorous tests were set up to prove LH502D's high durability compared to the existing outdoor lighting solutions in extreme conditions such as high  emperature, harmful gases, and salty humidity, which are often experienced outdoors. The result confirmed that the Samsung LH502D has superior reliability in comparison with other similar solutions in the market. 
■ Salty-fog Test

• Test: Salt mist, cyclic (sodium chloride solution)
• Duration: 6 days
• Condition: NaCl 5%/35℃ Salty water sprayed for 2 hours → 40℃/93% left for 6 days 22 hours, 4cycle
■ High Humidity Test

• Test: Wet High Temperature Operating Life Test (WHTOL)
• Duration: 1000 hours (42 days)
• Condition: 85℃/85%, 640mA, ON/OFF 0.5hr
■ Sulfur Test

• Test: Hydrogen sulfide test
• Duration: 504 hours (21 days)
• Condition: 25℃, 75%R.H., H2S 15ppm, 504 hours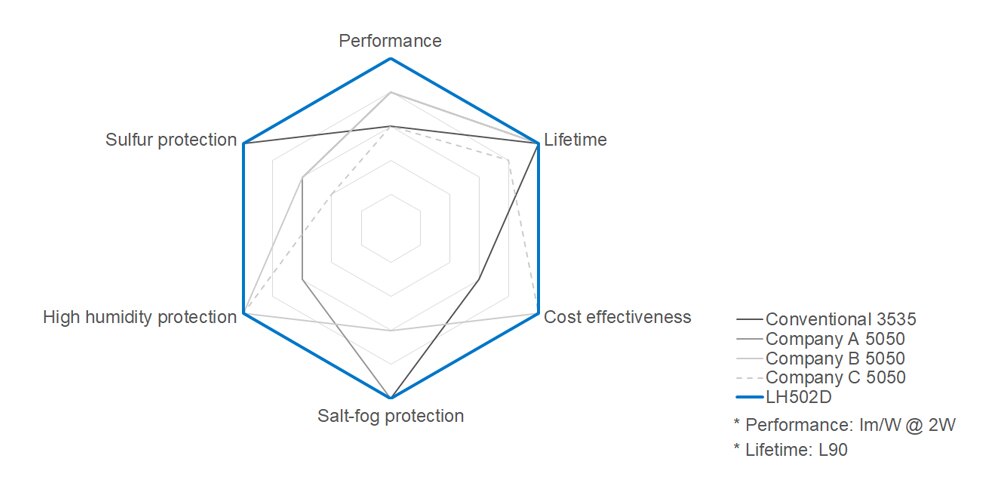 Samsung's Vision in Outdoor Lighting
Samsung LH502D is now the most ideal and economical solution with the best performance even in the most challenging outdoor environments such as roads, tunnels, factories, and ports. Starting with LH502D, Samsung will lead the future outdoor lighting market and continue to introduce more advanced lighting solutions based on various aspects of customer needs.