Samsung Introduces "Plant-Centric Spectrum LEDs, LM301H EVO" for Most Effective Indoor Farming
New Solution Release
2022-02-21
Explore the horticultural lighting industry and take a look at the features of Samsung LED LM301H EVO products.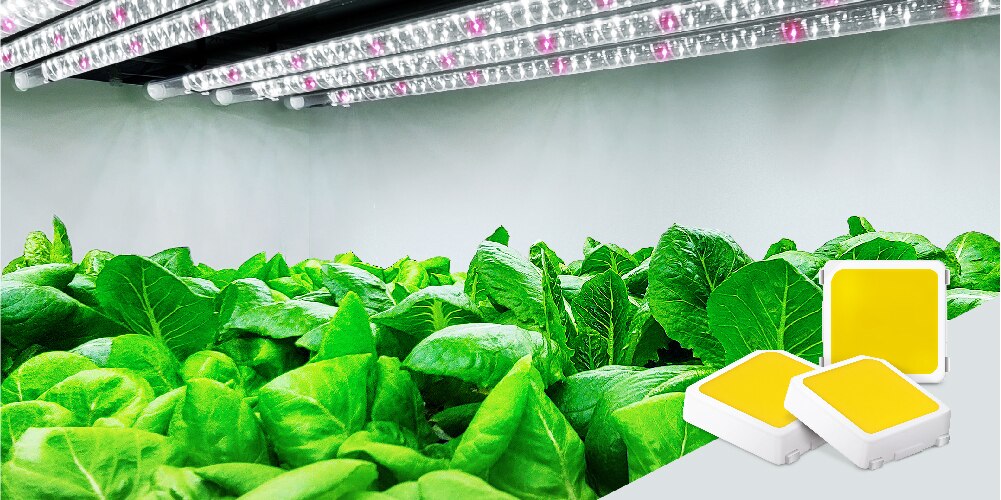 The horticulture lighting industry is experiencing rapid growth, as the future of scalable food production becomes an increasingly critical concern. Growers are seeking high quality sunlight substitutions as crucial components in modern, indoor, agricultural environments. To address these needs, LED manufacturers are in fierce competition to develop horticulture lighting solutions that can effectively improve plant cultivation. In accordance with this trend, Samsung has newly released plant-centric spectrum LEDs made specifically for indoor farming.
Until recently, horticultural lighting has been developed based on lighting for people, and was not subject to rigorous examination into how effectively the light supports holistic plant development. This type of examination looks beyond physical plant growth and considers factors like the freshness of a crop and its nutritional content. While photosynthetic photon flux (PPF, which measures photosynthetically active photons emitted by a lighting system each second) was previously the only standard that evaluated the performance of horticulture lighting, new research has emerged showing that a light spectrum has a significant impact on plant growth.
Based on this research, Samsung has developed a true horticultural light source, using its world-class spectrum engineering technology, with a 437 nm spectral peak that delivers industry-leading PPE to improve plant growth and enhances crop
quality. Samsung's innovative plant-centric spectrum LED dramatically boosts photosynthesis over existing horticulture lighting solutions and results in better, more holistic plant growth. Its 437 nm spectral peak, a shorter wavelength than that of conventional horticultural white LEDs, also stimulates secondary metabolites, such as phenolics and flavonols, to improve plant's nutritional quality. Moreover, this newly engineered spectrum effectively inhibits the growth of microorganisms like bacteria and fungi, leading to longer-lasting storability. Lastly, its industry-leading PPE consumes minimal energy, contributing to long term energy-savings and reduced operational costs for indoor farms. 
To quantitatively assess Samsung's new plant-centric spectrum, Samsung and Gyeongsang National University conducted a joint experiment over six weeks that examined the effectiveness of various horticultural light sources on holistic plant growth. The experiment compared four different types of LED lighting, including Samsung's LM301H EVO series, which uses this plant-centric light spectrum.
Dr. Ki-Ho Son of Gyeongsang National University, who directed the experiment, explained that, "Not only is LED lighting more effective and durable, but its greatest advantage is that we are able to specifically engineer its spectrum to optimize plant growth. Our experiment showed that the LM301H EVO series, which uses the shorter wavelength plant-centric spectrum, promotes higher physical and qualitative growth than normal white LEDs or combinations of blue and red LEDs. The plants grown under the plant-centric light spectrum had bigger and thicker leaves and had higher levels of nutrients."
Mike Mang, Vice President of LED Business Team at Samsung Electronics, stated, "Our newly released line-up is specifically engineered to serve the needs of horticulturalists who seek a more robust, valuable crop while consuming less energy." He continued, sharing that, "Horticulture lighting based on our new plant-centric spectrum will allow growers to experience next-level agriculture by cultivating higher quantity and better quality production while saving costs. We intend to continue developing Samsung's spectrum engineering technology to provide innovative LED lighting solutions for an even wider variety of spaces, from indoor living spaces to the larger horticulture industry."
Samsung Electronics strives to serve the diverse needs of the horticultural and agricultural industries, and to help solve future challenges surrounding sustainable food production.
The new LM301H EVO is now in mass production.