Samsung Wins the Presidential Award for Human-Centric Lighting
at LED & OLED Expo 2020
The latest LED technology brought together at LED & OLED Expo 2020
The LED & OLED Expo 2020 hosted by the LED Industry Forum was held at KINTEX in Korea on November 11 this year. The Expo marked its 18th anniversary and is considered an important event for the LED industry where industry leaders come together to exchange views on the latest technologies and plan the future of the LED industry. Let's catch a glimpse of this year's event where 120 companies participated.
The Excellence in New Technology Development Award was up first. The ceremony, held informally due to the ongoing COVID-19 pandemic, kicked off with an opening address by Ryu Jae-man, Chairman of the LED Industry Forum. He remarked that the LED & OLED Expo 2020 was this year's first international B2B Light Convergence Industry Exhibition and hoped that the event would serve as a venue to develop the LED industry further.
Vice President Choi Yoon-Joon with Paradigm-shifting Human-Centric Lighting awarded the Presidential Award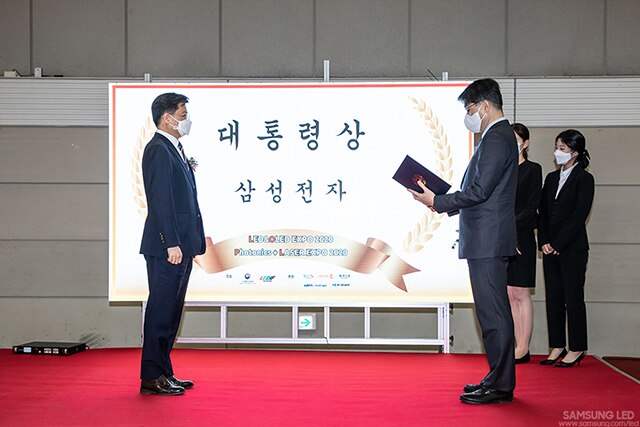 Next followed awards for companies that developed new light convergence industry-related technologies, such as LED, OLED, smart lighting, and optical instruments. Yoonjoon Choi, vice president of LED Business Team at Samsung Electronics, was honored with the Presidential Award for Human-centric light (HCL) Technology. This award was especially meaningful since human-centric lighting as a technology is considered capable of improving the quality of life and embodies the future of LED lighting.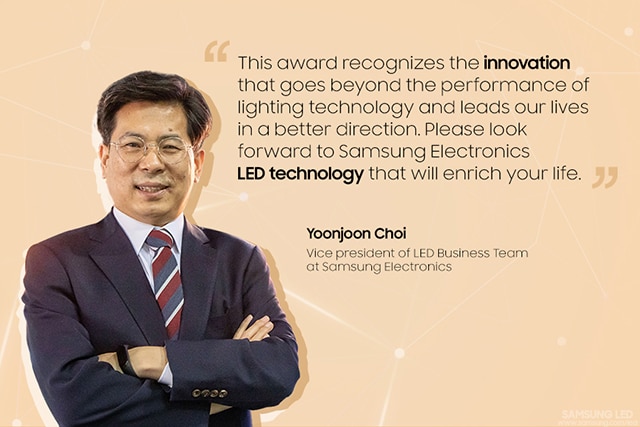 "With this award, I believe that our product has attained recognition for its innovative technology that drives human lives in a positive direction by proving the new possibilities of human-centric lighting technologies that reach far beyond mere technological excellence. To date, Samsung Electronics' LED business has made enterprise-wide efforts to develop next-generation LED light sources, including high-efficiency products, lighting for plant growth, as well as smart lighting. We proudly accept the Presidential Award, the highest honor in the Korean LED industry, on par with international awards such as CES and Elektra Awards."
Lighting that considers various modern lifestyles and health, aka human-centric lighting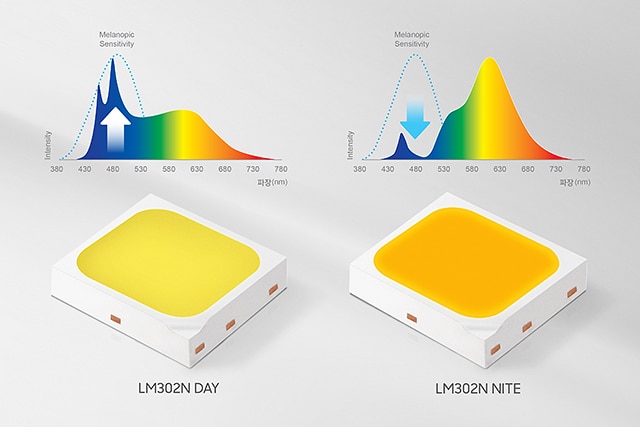 The development of LM302N established the foundation for winning this award. LM302N is a lineup of LED packages that regulates light at the cyan wavelength, having the most significant effect on human melatonin secretion. It consists of two offerings, LM302N DAY, which boosts focus, and LM302N NITE, which ensures comfortable rest. It applied new LED technology to realize melatonin secretion via the light spectrum. 
"Samsung's human-centric lighting went one step further than existing technology that mimics sunlight by simply controlling the light intensity and color temperature. The LM302N's unique feature provides circadian rhythm optimized light by regulating the non-visual light spectrum. Samsung's spectrum engineering technology is at the center of melatonin control, alerting or relaxing the body, and promotes energy or relaxation based on purpose even when lights are visually identical.
Samsung aims to help maintain a healthy circadian rhythm through human-centric lighting technology and support people in different environments such as homes, workplaces, schools, hospitals, and nursing homes. This technology will provide a new solution to make people's days more energetic and comfortable in the future."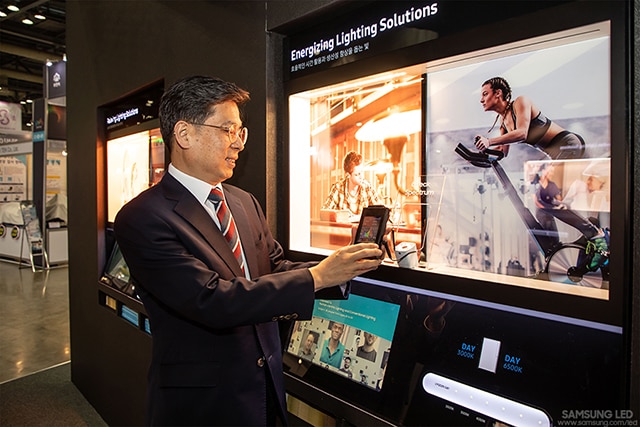 As an innovative technology that shifts the existing paradigm of human-centric lighting, its development required a significant amount of time and effort.
"The lighting industry has been concentrating on increasing performance and efficiency for a long time. Nevertheless, we went even further and identified the infinite possibilities of lighting, and most importantly, a new lighting role that could cater to users' various lifestyles. We hope that Samsung's technology will serve as a blueprint for the opportunity to change people's perception of lighting."
The essential future of human-centric lighting that reaches beyond the superficial aspects of lighting and considers people's lifestyles seems very promising.
"The global COVID-19 pandemic has drastically altered our lives. As people spend increased time indoors, lighting is becoming more important. Many people slowly realize that lighting is a crucial factor in improving the quality of life.
Discussions regarding human-centric lighting will become more prevalent. Samsung will continue its endeavors to develop comprehensive, true human-centric lighting that fully considers its impact on the human body. We will do our best to create a light environment optimized for a healthy circadian rhythm anytime, anywhere, based on smart lighting technology. 
Samsung's world-class semiconductors are used in many industries and serve as an industry standard. We will continue to work on research and development so that Samsung LED can become a symbol of trust in the LED industry. We hope you look forward to Samsung's innovative LED technologies that will make your life more comfortable and prosperous."
Exhibition booth offering the Samsung's human-centric lighting technology experience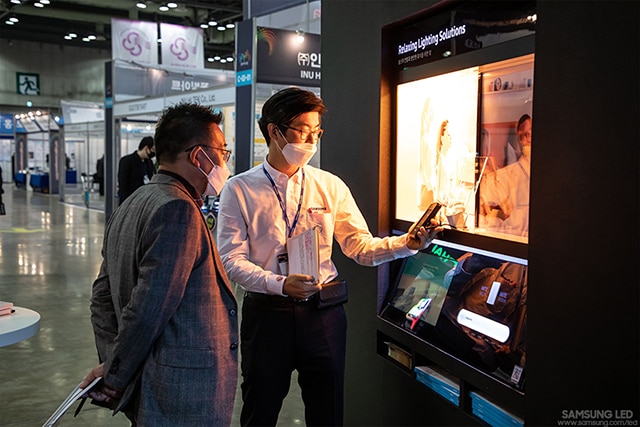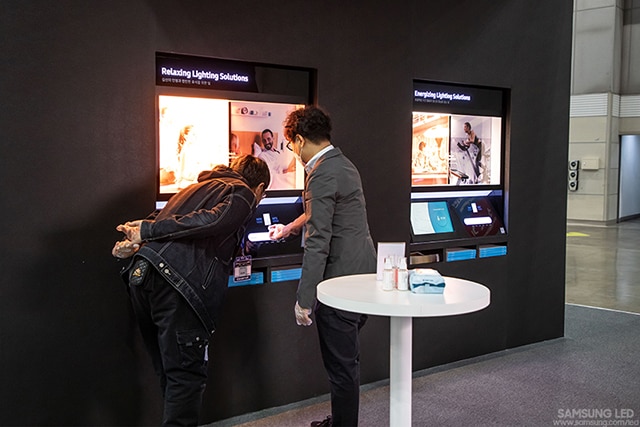 Numerous people visited and experienced different lighting conditions and spectrum of three solutions: Energizing Lighting Solutions using LM302N DAY, Relaxing Lighting Solutions using LM302 NITE, and Circadian Lighting Solutions combining two packages, LM302N DAY and LM302N NITE.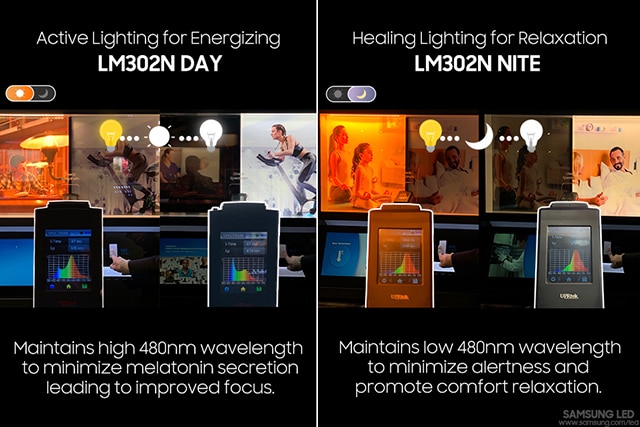 Notably, the LM302N DAY maintained a high cyan wavelength level at 480nm regardless of the color temperature. The higher the cyan wavelength, the higher the melatonin secretion, allowing people to see how concentration and activeness increase.
In contrast, LM302N NITE, designed for nighttime use, has a low cyan wavelength of 480nm regardless of color temperature. LM302N NITE keeps this wavelength low to activate melatonin secretion that results in a relaxing break. Resting lights in the past merely translated into yellow lights with a high CCT. However, circadian rhythm maintenance is possible with advanced human-centric lighting, even under lights with low color temperatures.
One of the visitors commented that "the concept of controlling a non-visual hormone such as melatonin seems very interesting," and "it could be beneficial not only at workplaces but also at home."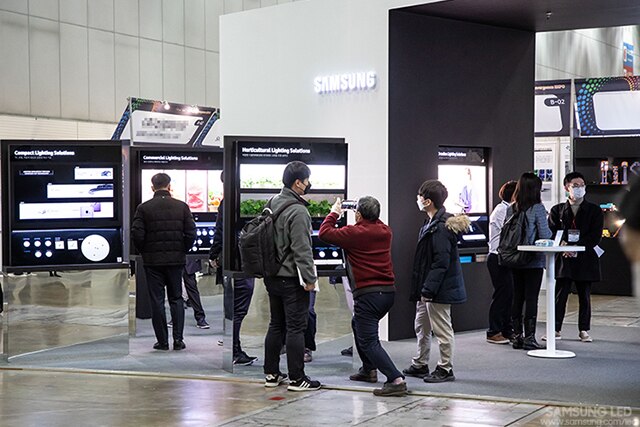 Along with LM302N, Samsung's Horticulture LEDs were also on display and have gained a lot of attention in the domestic market by highlighting its feature for balanced plant growth with the promotion of photosynthesis and pest prevention, using light wavelengths for optimization. Also displayed were specialized ultra-small chip-scale packages (CSPs) and COBs for commercial lighting, thereby allowing visitors to experience Samsung's wide range of LED technologies.
In addition, Samsung's booth was boasted a concurrent webinar held in the booth on the first day of the expo. Visitors unable to attend in person due to COVID-19 could still acquire information on the value of human-centric lighting technology. 
The LED & OLED Expo 2020 was a great place to discover Samsung's award-winning innovative technology and experience the future of human-centric lighting. Let's keep an eye on the lighting convergence field expected to grow dramatically in the coming years with Samsung in the lead.