Samsung's New "Always Open" Virtual Booth to Showcase
Innovative LED Technologies and Products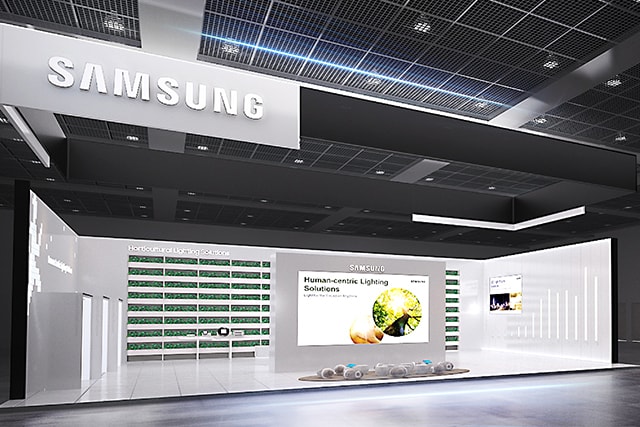 At Samsung Virtual Lighting Exhibition 2020, virtual visitors will find segmented, application-sorted product lineups.

These days, the era of social distancing is pushing the world's top manufacturers to think more creatively when it comes to facilitating product interactions. Thus, Samsung LED is filling the need for more consumer-facing product presentations with innovative new strategies. The company has just opened a Virtual Lighting Exhibition, where a range of up-to-date news about Samsung lighting solutions will be available to manufacturers, supply chain partners and end users, 24 hours a day, seven days a week. 

The new online booth provides a platform where virtual visitors can access the most current Samsung LED technologies and products in a matter of seconds. 

"Under the current circumstances, it is very difficult to continue face-to-face communications throughout our industry and this is exactly why we have come up with a new approach to digital communications." said Yoonjoon Choi, vice president of Samsung LED Business at Samsung Electronics. "Samsung's Virtual Lighting Exhibition 2020 will serve as an important business showcase where the latest LED component solutions can be displayed without the need for physical meetings."

At Samsung Virtual Lighting Exhibition 2020, virtual visitors will find segmented product lineups grouped according to application. These easy-to-peruse offerings include: 

Horticulture Lighting Solutions — featuring full-spectrum-based technology that improves crop quality and increases yields by boosting photosynthesis, inhibiting disease and promoting better nutrition

Human-centric Lighting Solutions — establishing a melatonin control effect through optimized melanopic ratios that help our bodies adjust the melatonin levels, allowing people to operate in a heightened state during active periods and feel more relaxed while resting

Retail Lighting Solutions — helping businesses thrive by promoting longer stays in stores and encouraging more targeted purchasing considerations

High-Efficacy Lighting Solutions — laying the foundation for paradigm-shifting solutions such as horticultural and human-centric lighting to have a significant positive impact on people's everyday lives

Smart Lighting Solutions — transforming conventional lighting into smart lighting to foster convenience

Light Engine Solutions — embracing an extensive range of products that cover every type of LED application, highlighting superior performance, design flexibility and top-notch efficacy

Outdoor & Industrial Lighting Solutions — providing robust performance backed by advanced technology and proven reliability in areas where the highest standards are required.

The virtual booth features highly realistic showcases of Samsung lighting solutions which are accompanied by narrated videos that serve to minimize the communication limitations brought about by the current climate. A range of media operators will offer virtual visitors a series of first-class online exhibitions during which the benefits of Samsung's LED component solutions can be conveniently assessed. 

Samsung Virtual Lighting Exhibition 2020 can be accessed now by visiting the Samsung LED website at led.samsung.com/about-us/virtual-exhibition/.