New High-power LEDs Set to Transform Automotive Industry


LED lighting is becoming prevalent throughout the automotive industry due to LED's high brightness, superior energy efficiency and exceptional reliability, compared to conventional light sources like halogen and xenon lamps. 
"The move to high power LEDs brings so much better lighting to car owners, that one might say LEDs represent an automotive visual revolution, an improvement in technology that becomes even more meaningful when you consider the increased 'safe driving' factor," said Un Soo Kim, senior vice president of LED Business Team at Samsung Electronics.
Not only is LED lighting extremely dependable and highly efficient, but most importantly it enables safer driving experiences because it makes road hazards easier to see. Moreover, as automotive lighting systems become more intelligent, demand for the high efficacy and unsurpassed
reliability of the highest grade LED components is rapidly accelerating. 
In line with the growing demand, Samsung's second-generation C-series and FX-series offer a light efficacy of 133 lumens per watt (lm/W) – the highest among today's high-power automotive LED packages. By providing more brightness at a low voltage, the packages also work well with smaller heat sinks, allowing for lighter lamp designs and consequently reducing system cost for lamp manufacturers.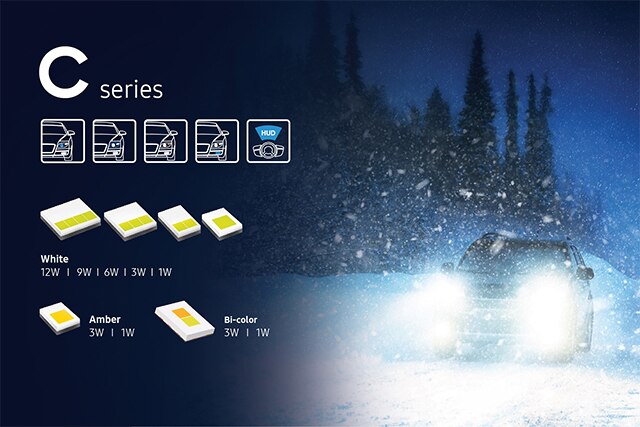 The Samsung C-series is optimal for exterior lamps, such as headlamps, which require greater levels of luminous flux and a high degree of reliability, especially when operating under harsh conditions. Featuring up to four multichip designs, the C-series solutions deliver as high as 1,560 lumens, while the ceramic substrate's thermal stability and high durability enhance the reliability of each package. Additionally, by incorporating Samsung's uniquely differentiated phosphor blend, the C-series doubles the contrast ratio to as much as 1,000:1 from its previous iteration. This helps to improve driver visibility, dramatically.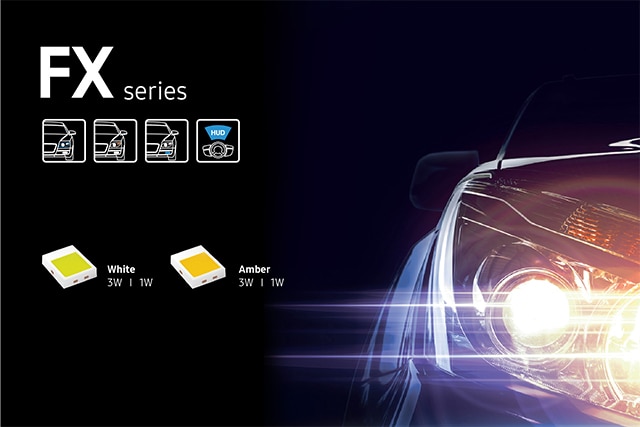 Similarly, Samsung's FX-series provides highly reliable performance too, using a flip-chip-based structure. Available in a compact size of 1.8x1.4 millimeters, the FX LEDs offer greater freedom for automotive lighting manufacturers to design sleeker and more stylish lighting across diverse applications. This includes designs using daytime running lamps (DRLs) and head-up displays (HUDs), as well as next-generation adaptive driving beams (ADBs). 
Samsung's new LEDs are available in a wide range of luminous flux and sizes, brightening up virtually every key automotive lighting application today.
To further validate their quality, safety and reliability, these new C-series and FX-series automotive packages have been thoroughly tested at Samsung's world-renowned LED laboratory, which has been accredited by most global certification institutes based on rigid international standards.
Both the C-series and FX-series are now being mass produced, and are being applied to leading-edge automotive lamps around the world.
Specifications for Samsung's new automotive LED packages include:
Detail
Product
Luminous Flux
(typ.)
Light Efficacy
Size
Application
C-series Gen 2
12W White
1584 lm
133 lm/W
4.66 x 3.1 x 0.75 mm
Headlamp
9W White
1188 lm
3.56 x 3.1 x 0.75 mm
Headlamp
6W White
792 lm
3.1 x 2.46 x 0.75 mm
Headlamp
3W White
400 lm
1.9 x 1.5 x 0.75 mm
ADB Headlamp
DRL, HUD
FX-series Gen 2
3W White
400 lm
1.8 x 1.4 x 0.46 mm
ADB Headlamp
DRL, HUD