Samsung's Award-Winning T-Series COB LED Delivers Finely Tunable Lighting Solutions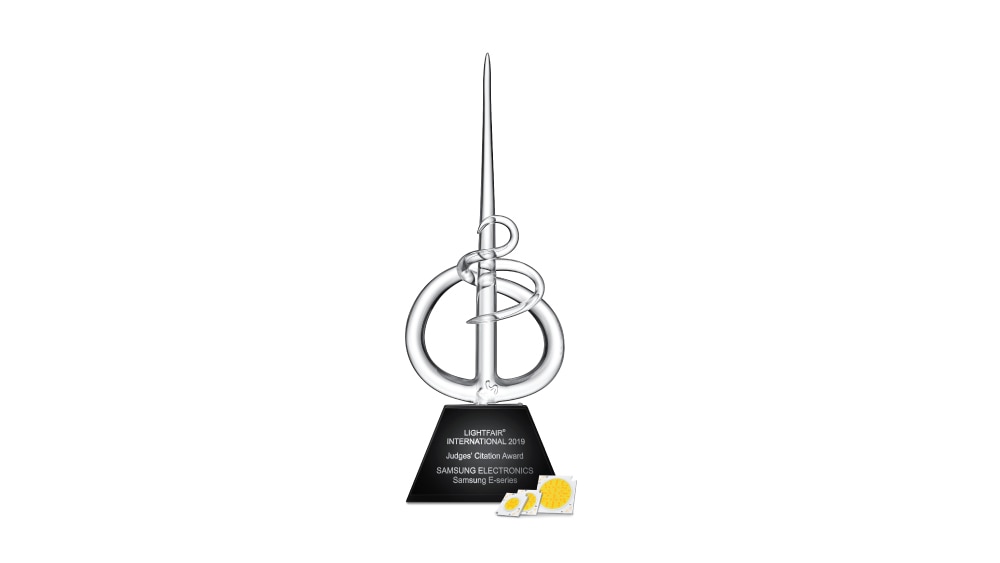 Note: The trophy is displaying the former product name at the time of award submission, the E-series, which has changed to the T-series.
Interest in "emotional lighting" is steadily increasing as light is considered to be one of the key elements with which to create an atmosphere of personal intimacy. Accordingly, the majority of retail stores switch out their lighting from time to time to help display themselves in a more personable and emotional way. 
LED tunable lighting solutions are a prime means of enhancing an emotional atmosphere in that they allow the user to change the ambience of a space without having to add another light or replace a bulb. Most of these tunable lamps use LED modules with two color temperatures to generate a range of inviting light variations. 
Samsung Electronics' new 'T-series' chip-on-board (COB) LED features superb white-color tunability within a single LED package by using advanced phosphor technology and chip-scale packaging design, which together take color mixing to new levels. Consequently, lamps using Samsung's T-series LEDs can provide industry-leading light efficacy with significantly enhanced color quality.
In the T-series, chips are covered completely in green phosphor, which enables lights with different color temperatures to blend and produce a homogenous color, eliminating the need for a diffuser. Conventional tunable LED modules require a diffuser for smooth color mixing, adding another layer for the light to pass through and causing a drop in the light efficacy levels.
Samsung's COB design allows the T-series to offer a high rate of light output per light-emitting surface (LES) and low thermal resistance in a single LED package. Additionally, its unique, concentric circle chip arrangement provides high uniformity. These qualities make the T-series ideal for a wide range of indoor lighting applications – particularly those in retail stores, boutique hotels and coffee shops where high-quality spotlighting is essential to enhance an appealing spatial ambience.
Thanks primarily to these outstanding color mixing features, Samsung's T-series LED modules won at the 2019 LIGHTFAIR International (LFI) Innovation Awards in the category of LED/OLED Chips and Modules, and were also honored with the prestigious Judges' Citation Award.
About Samsung Electronics Co., Ltd.
Samsung inspires the world and shapes the future with transformative ideas and technologies. The company is redefining the worlds of TVs, smartphones, wearable devices, tablets, digital appliances, network systems, and memory, system LSI, foundry and LED solutions. For the latest news, please visit the Samsung Newsroom at news.samsung.com.
Contact Us
We will help you find the right solutions for your business.
Sales Network
Partner site for B2B collaboration