Lightfair International 2013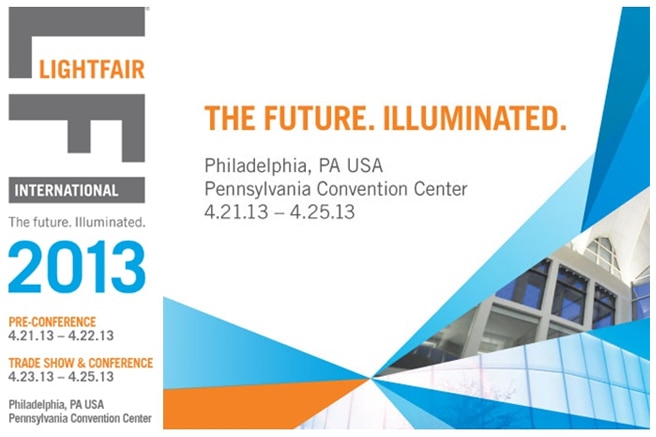 Schedule : Apr 21, 2013 ~ Apr 25, 2013
Location : Pennsylvania Convention Center, Philadelphia, USA
Show highlights 
Samsung Unveils Innovative LED Lighting Solutions at LIGHTFAIR International 2013
Under the theme, "Discover Samsung SMART Lighting," we showcased more than 100 products in a 3000 sq. ft. booth. Learn about our cutting-edge LED packages and flexible light engines that provide widest range of commercial lighting applications, and our complete retrofit lamp and LED tube portfolios as well.

Exhibits featured:

PACKAGES
 • MIDDLE POWER LED PACKAGE that provides the Industry's highest efficacy level
 • COB (CHIP ON BOARD) LED PACKAGE that features 120 lm/W efficacy and CRI 80+ performance for high color
  uniformity at all angles at 3000K
RETROFIT
 • LED SMART BULB STARTER KIT that includes a smartphone-controllable LED bulb, via a wireless communications
  protocol (Zigbee). Features remote on/off, brightness adjustment, and more. Provides 3 Smart Bulbs and a Bridge for
  home setup.
 • A 35W EQUIVALENT HCRI LED LAMP that is dimmable, has CRI 90+, and lasts 25,000h, with 440lm light output
  using only 10W
ENGINES
 • LINEAR ENGINE MODULE that supports flexible fixture design with 4 different module types,
  145 lm/W at 5000K, and MacAdam 3-step color consistency
 • FINGER-TYPE ENGINES with 160 lm/W at 5000K performance, Tc=35degree, MacAdam 3-step color consistency
LED TUBES
 • L-TUBES featuring superior efficacy (140lm/w at 5000k), color uniformity, and seamless design
 • 120MM ECG/CCG TYPE L-TUBE that is easy to install and has a faster payback period than conventional/fluorescent light
  

Contact Us
We will help you find the right solutions for your business.
Sales Network
Partner site for B2B collaboration